4940
Oct 22, 2020 7:57:32 PM EDT
Oct 22, 2020 7:49:44 PM EDT
Anonymous
ID: 7756e6
No. 11223081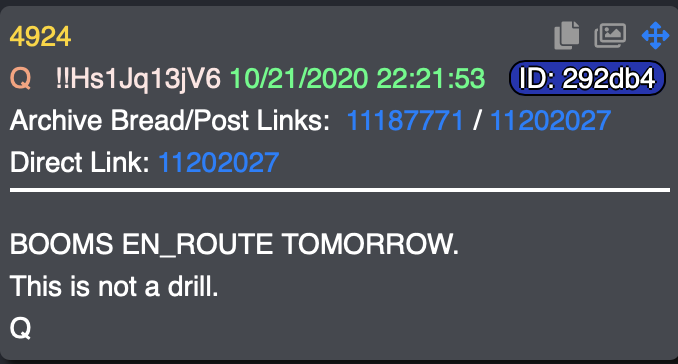 Screen_Shot_2020_10_22_at_6_48_37_PM.png
Q, you magnificent bastard!
>>11223081 Only the beginning, Padawan. They can no longer hide in the shadows [big tech, big media, [D] party being exposed for all to see]. Q
---
Due to censorship/tortious interference, we've lost all income we used to pay for the servers, language translations, services, etc. Please consider making a donation to help support our work & expenses. ThanQ!
bc1qegpu20fevgwc39l0eagdvghegjgsg7gct5m9uk
Social Media
Gab @qalerts • TRUTH Social @qalerts