3883
Feb 25, 2020 4:27:43 PM EST
Feb 25, 2020 4:19:40 PM EST
Anonymous
ID: bb0319
No. 8246640
Feb 25, 2020 4:18:44 PM EST
Anonymous
ID: 46e207
No. 8246625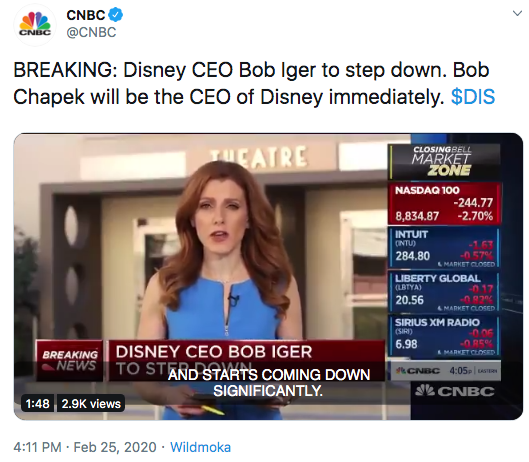 >>8246625
BREAKING: Disney CEO Bob Iger to step down. Bob Chapek will be the CEO of Disney immediately.
https://twitter.com/CNBC/status/1232412793141440514
Many sources confirming now, live on FOX too. He's not CEO anymore though, and is leaving earlier than his contract says he should.
>>8246640 The Silent War continues.. Q
---
Due to censorship/tortious interference, we've lost all income we used to pay for the servers, language translations, services, etc. Please consider making a donation to help support our work & expenses. ThanQ!
bc1qegpu20fevgwc39l0eagdvghegjgsg7gct5m9uk
Social Media
Gab @QAlerts