2787
Feb 18, 2019 1:06:26 PM EST
Feb 18, 2019 12:53:06 PM EST
Anonymous
ID: ef30da
No. 5244054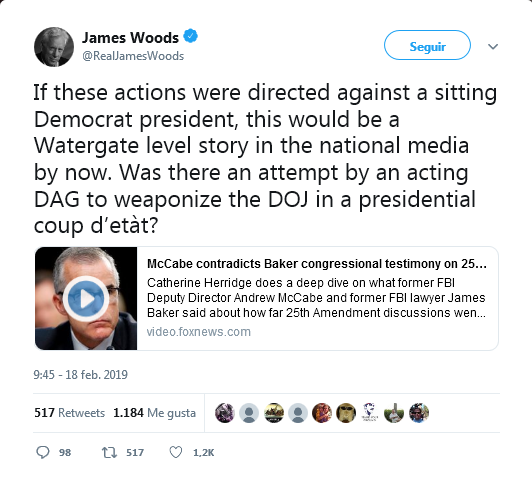 James Woods @RealJamesWoods If these actions were directed against a sitting Democrat president, this would be a Watergate level story in the national media by now. Was there an attempt by an acting DAG to weaponize the DOJ in a presidential coup d'etàt?
>>5244054 Attempt to isolate @ FBI/DOJ? Do you believe the FBI/DOJ acted alone? If HRC directed & financed the 'dossier' in order to obtain the 'bulk' so-called evidence in order to generate circular news articles (think Yahoo!) and obtain a FISC sign-off, is it reasonable to think that members of the INTEL APPARATUS, STATE DEPT, WH, FOREIGN ALLIES, ETC. were also involved? THE BIGGEST SCANDAL IN OUR KNOWN HISTORY [A NEW WORD FOR 'TREASON' WILL NEED TO BE INVENTED]. Why does HUSSEIN continue to 'proudly' state his administration was 'scandal free'? Define 'Projection'. Q
---
Due to censorship/tortious interference, we've lost all income we used to pay for the servers, language translations, services, etc. Please consider making a donation to help support our work & expenses. ThanQ!
bc1qegpu20fevgwc39l0eagdvghegjgsg7gct5m9uk
Social Media
TRUTH Social @qalerts • Gab @qalerts • Rumble