1403
May 17, 2018 2:39:47 PM EDT
May 17, 2018 2:34:34 PM EDT
Anonymous
ID: ff6327
No. 1445248
May 17, 2018 2:30:25 PM EDT
Q
!4pRcUA0lBE
ID: 349934
No. 1445147
>>1444934 What had to happen first? Think logically. Think DOJ & FBI. Think cleaning.
#64
Puzzle coming together? We have reached our cruising altitude of 40,000 ft. long ago. As we prepare to land, please fasten your seatbelt and make sure your seat back and folding trays are in their full upright position. Q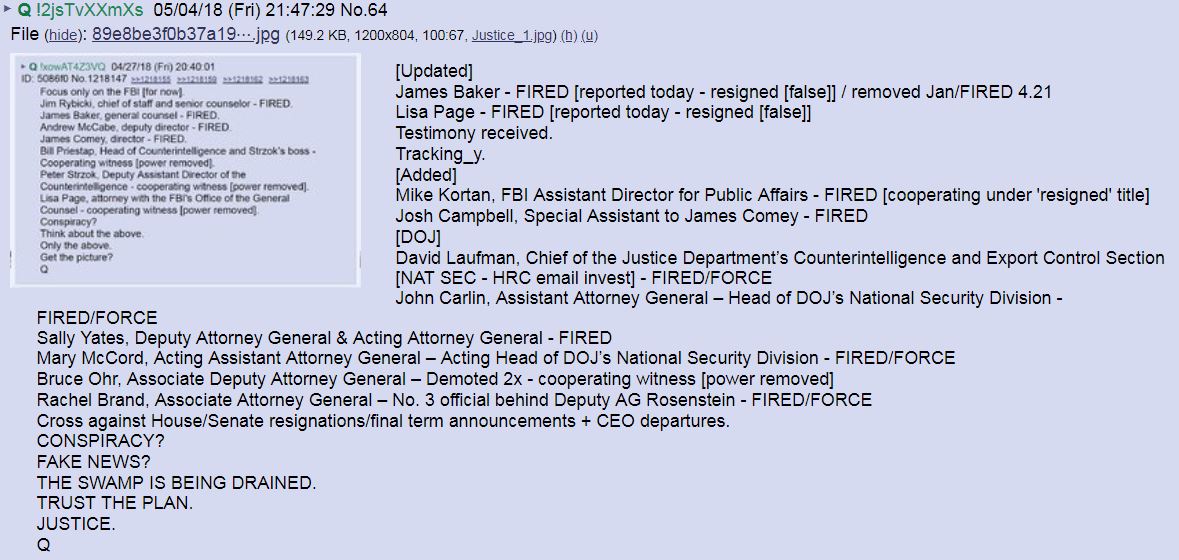 >>1445248
64
Nov 02, 2017 7:31:24 PM EDT
Fellow Patriots, I'm being advised actions have created accelerated counter-actions. We have not yet ascertained the scope of the attack. Watch the news outlets. POTUS' Twitter take down was not by accident (as referenced several hours ago). Should the lights go out please know we are in control. Do not panic. We are prepared and assets are in place. God bless - I must go for good at this point. Q
---
Due to censorship/tortious interference, we've lost all income we used to pay for the servers, language translations, services, etc. Please consider making a donation to help support our work & expenses. ThanQ!
bc1qegpu20fevgwc39l0eagdvghegjgsg7gct5m9uk
Social Media
TRUTH Social @qalerts • Gab @qalerts • Rumble