Currently displaying post dates/times in Eastern time. To set your timezone or to make this notice go away, use the cogs icon at the upper-right to (re)select your timezone.
4320
May 24, 2020 8:03:15 PM EDT
May 24, 2020 7:55:32 PM EDT
Anonymous
ID: a3d3be
No. 9303076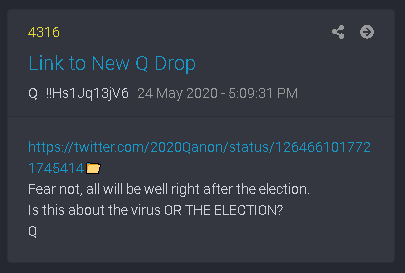 >>9303046 "Fear not, all will be well right after the election." Here we are. Not "All will be right after Durham". Q us quelling until the Democrats steal the election. What the fuck does the election have to do with justice?
---
Get your QAnon swag @ shop.QAlerts.app.
Due to Apple & Google pulling all Q apps, we've lost the income we used to pay for the servers, language translations, Pushed app, etc. Consider making a donation or purchasing Q swag to help support our work & expenses. ThanQ!