Currently displaying post dates/times in Eastern time. To set your timezone use the cogs icon at the upper-right.
2740
Feb 16, 2019 3:13:30 PM EST
Feb 16, 2019 2:58:13 PM EST
Anonymous
ID: 8dee3e
No. 5208844
Feb 16, 2019 2:55:53 PM EST
Q
!!mG7VJxZNCI
ID: a8d7d3
No. 5208800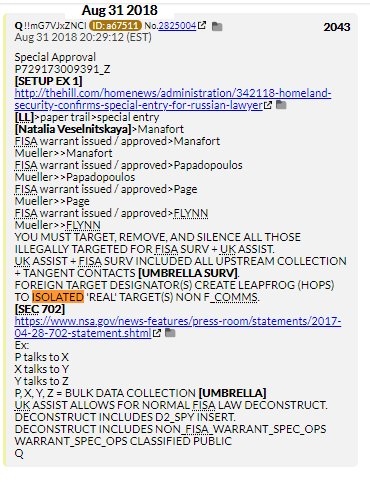 >>5208844 You have more than you know. Why did [LL] [ATTORNEY GENERAL OF THE UNITED STATES] grant 'special entry' to Natalia Veselnitskaya (Don Jr. 'set up' meeting)? Why was [NV] barred from entering prior to? If you have no real evidence of 'Russian Collusion' you must attempt to manufacture. Q
---
Get your QAnon swag @ shop.QAlerts.app.