Currently displaying post dates/times in Eastern time. To set your timezone use the cogs icon at the upper-right.
2030
Aug 31, 2018 12:42:21 PM EDT
Aug 31, 2018 12:25:00 PM EDT
Q
!!mG7VJxZNCI
ID: 76edd4
No. 2817197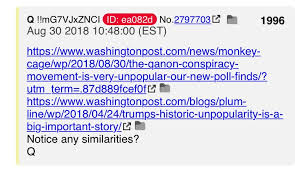 >>2817197 Think [WAPO] Qanon yesterday (poll) POTUS today (poll) Notice any similarities? FAKE NEWS readers (asleep: not attentive or alert; inactive) told to SUPPORT SESSIONS? "Every battle is won before it's ever fought." Are you awake? Q
---
Get your QAnon swag @ shop.QAlerts.app.