Currently displaying post dates/times in Eastern time. To set your timezone use the cogs icon at the upper-right.
1810
Aug 03, 2018 3:31:55 PM EDT
Aug 03, 2018 3:21:25 PM EDT
Anonymous
ID: 99fd40
No. 2434543
Aug 03, 2018 3:22:02 PM EDT
Anonymous
ID: 71570000
No. 2434558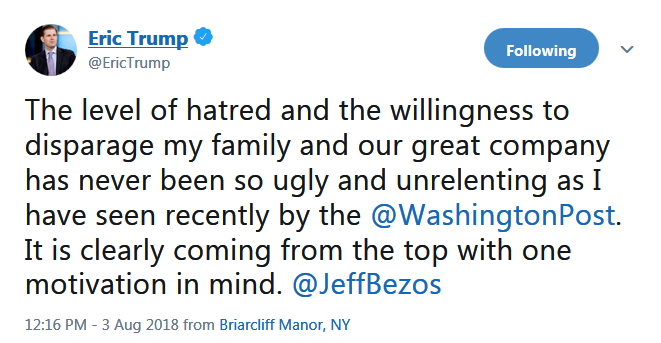 The level of hatred and the willingness to disparage my family and our great company has never been so ugly and unrelenting as I have seen recently by the @WashingtonPost. It is clearly coming from the top with one motivation in mind. @JeffBezos twitter.com/EricTrump/status/1025460455437987845
>>2434543 >>2434558 Do you believe in coincidences? Q
---
Get your QAnon swag @ shop.QAlerts.app.